Even if your job profile does not involve working in a team, you need to interact with others to complete your tasks.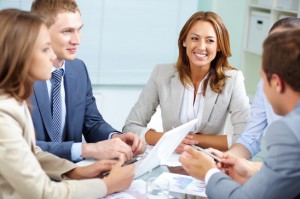 Use Foundation Skills for PA's and Executive Assistants by pdtraining in Dunedin, Christchurch, Hamilton and other cities in New Zealand to develop skills as a personal assistant.
For job satisfaction and increasing opportunities for promotion, good communication skills and management of people becomes crucial. It is believed that along with expertise in work, good behaviour and the ability to get along with others is equally important for a professional. A person who does his or her work masterfully, but does not cooperate with others at the office cannot be called a fine professional. Both work and social skills, therefore, must hold value for professional success.
The Impact of Politeness and Good Manners
Practising good manners and behaviour makes you approachable. A smile and a pleasant greeting to colleagues in the morning establishes a healthy basis for furthering relationships. It encourages others to feel free to talk to you. Being positive and well-mannered makes you likeable, which improves your professional relationships.
You may, according to your work relationship with the other person, adjust your communications, but make sure that you do not discriminate between your superiors and subordinates when it comes to good manners and politeness. Practise best behaviour with everybody at your workplace, irrespective of their professional standing. The impact of your good manners brings positivity in others' lives and also your own.
You cannot expect everything at work to be rosy. Therefore, you need to prepare for the bad as well. By successfully handling opposition, bad behaviour by others and conflicts, you can keep your work life stress-free. Even when your professionalism and good behaviour gets you to enjoy better support, it also helps you to create a good environment to work in. Again you reap the benefits of your good behaviour too.
Addressing Others' Needs
As a personal assistant, you provide support to your immediate boss and many others. To meet everybody's needs, you need organisation, management, and prioritising. First, you need to make sure that you note down the tasks that you need to perform. Even though you think that you will remember the task at the moment, you cannot risk forgetting it. Noting down tasks also helps you to prioritise them easily later.
When addressing others' needs, you must use your communication skills to inform them how and how long it will take you to provide them support. According to your priority list and the importance and urgency of the new task, you must clearly inform the other person of what they can expect. Making promises that you cannot keep because of lack of time and/or resources can lead to disappointments and conflicts.
Seeking Help
Nobody likes to make mistakes or feel helpless, but remember that recognising that you need help and seeking it is a part of being humble. If you are overburdened or believe that you cannot complete a task, seek help from a person who has the capacity to provide it. When seeking assistance, it is important that you get help from somebody who can resolve your problem, and not just sympathise with your situation.
Pdtraining delivers 1000's of professional development courses each year in Wellington, Auckland, Napier, Christchurch, Hamilton, Dunedin and Tauranga, so you can be assured your training will be delivered by a qualified and experienced trainer.
All public Foundation Skills for PA's and Executive Assistants courses include am/pm tea, lunch, printed courseware and a certificate of completion. Customised courses are available upon request so please contact pdtraining on 1300 121 400 to learn more.