Every professional wishes to develop skills so that he/she can fulfill professional ambitions and lead a more fulfilling life.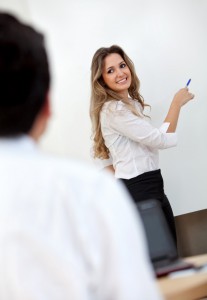 When considering training to grow professionally, use professional development training by pdtraining in Auckland, Tauranga and other cities.
There are some skills that can only be developed after extensive training such as achieving black belt certification in Lean Six Sigma or becoming a trained manager. There are certain other skills that are immensely important and can be developed in a short duration, in a day or two. These skills can bring about a drastic change in how you work and live. Here are some simple yet powerful ideas to help you reach your professional goals.
1.      Learn to Influence and Persuade Others
There are conflicts and differences wherever there are people. Even if you have an understanding boss, you might need to deal with colleagues, superiors, customers and other businesses on a regular basis. Learning to influence and persuade others can help you to get tasks completed on time, build a positive work atmosphere, reduce conflicts, and increase your professional worth.
A short professional development training course in influence and persuasion helps you to:
Use persuasion and not manipulation
Use pushing and pulling when influencing others
Apply different techniques to build conversations to persuade
Make a persuasive presentation
Use neuro linguistic programming to influence and persuade
Use presentation strategies
Apply storytelling techniques to extend influence
Begin a conversation with the aim to influence
Empathise, build rapport and lead
A day spent in learning how to influence and persuade others can substantially improve your professional worth, and also pleasantly influence your personal life.
2.      Solve Problems Creatively
Resolving problems creatively involves defining a problem, evaluating possible solutions, brainstorming, analysing, planning, selecting and measuring. This process of problem-solving helps to find the best possible solution to a problem, remove the root cause, and not allow it to occur again.
Simple ideas for professional development training are the most effective in drastically altering your professional and personal life. A training session in creative problem solving helps to prevent and resolve problems as soon as they occur. It leads to less damage and greater productivity.
3.      Manage Work Stress
Work stress is not only limited to the office, but can also be because of travelling, problems in the family, finances, illnesses and so on. Whatever the cause of stress, it is important to overcome it, avoid its occurrence and/or make life-changes to control it. Exercising, eating right, identifying causes of stress and avoiding them, selecting and creating a support system, seeking help, and altering attitude towards positivity and strength allows you to reduce stress significantly.
Positive stress, on the other hand, must be used to increase productivity and the feeling of well-being. A day spent in learning how to manage stress can change the way your work and live forever. Often, it is the small things that lead to big results in the long-run. Get holistic training in professional development to become a better person and a better professional.
Pdtraining delivers 1000's of professional development courses each year in Wellington, Auckland, Napier, Christchurch, Hamilton, Dunedin and Tauranga, so you can be assured your training will be delivered by a qualified and experienced trainer.
All public Professional Development Training courses include am/pm tea, lunch, printed courseware and a certificate of completion.  Customised courses are available upon request so please contact pdtraining on 1300 121 400 to learn more.