For a goal to have real meaning, it must be realistic.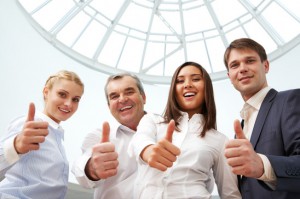 To gain new skills in setting goals and accomplishing them, consider participating in Goal Setting and Getting Things Done Training Course offered by pdtraining in Hamilton, Tauranga and other cities in New Zealand.
A goal should push your limits and capabilities, but not exceed what you are capable of delivering to yourself and your organisation.  In short, it must be tough to completely fulfil, but it must also be mostly achievable.  That means taking into account both internal and external factors in the goal-setting process.  How to do this is covered fully in our courses, but in short, the internal factors include things such as your understanding of your abilities, how those abilities can be applied to your role, how you can overcome or minimise the impact of your shortcomings, and how you can achieve by maximising the impact of your abilities and minimising the way that your limitations affect the desired result.
External factors are easier to use as excuses, therefore should be included in your goal statement – things like "Increase sales by 10% above industry average"  or "move from #8 in my department to #5" rather than "Increase my sales by 5%" (if your industry is forecasted to grow by 10%) are good examples.
Personal measuring against colleagues is often a great metric at salesperson/customer service operative level, while at SME business owner level, you would consider things like profitability per customer, average total sale, or profit % per transaction.
At medium business-to-large-enterprise level, things get a bit more strategic and much too complex for a blog, so just call!
Unless we have goals, we have no aspirations!
Pdtraining delivers 1000's of professional development courses each year in Wellington, Auckland, Napier, Christchurch, Hamilton, Dunedin and Tauranga, so you can be assured your training will be delivered by a qualified and experienced trainer.
All public Goal Setting and Getting Things Done Training courses include am/pm tea, lunch, printed courseware and a certificate of completion.  Customised courses are available upon request so please contact pdtraining on 1300 121 400 to learn more.